Disc Ploughs Best Suited for Road Transport
Disc Ploughs Best Suited for Road Transport
When buying large agricultural equipment, getting it from your machinery shed to your paddock or going from farm to farm may seem like a challenge given its sheer size. While the equipment is perfect for use at a farm with large fields, transportation on the road is another matter and something that must be considered.
Fortunately, as technology has evolved, so has agricultural machinery. Most equipment has the option for you to choose machines that now fold easily, which means they can fit seamlessly on a truck or be driven on the road while meeting road law requirements.
Hydraulic Fold for Easy Transportation
Our Grizzly equipment comes in a range of sizes, some of which fold manually and others that are done with the ease of hydraulics and even those that have both options for you to choose from.
Some models are easy to use, while other models don't fold at all. So, while getting your machinery from A to B is essential, you need to select a suitable model that works best for your needs.
Among our range, we have the Field Master, which is easy to fold. It is as simple as pulling a hydraulic lever, and it folds the machine to 2.5 metres. The Tiny and Field Boss also use a hydraulic lever to easily fold the equipment for transportation and these fold to 3.5 metres and from 4.4 meters respectively.
How long it takes to fold will vary, depending on whether it's manual or hydraulic. For example, a Field Master will fold within 5 seconds and is primarily due to its hydraulic function. However, the Tiny has both a hydraulic and manual option, it can take anywhere between 30 seconds for the hydraulic fold option to 5 and 7 minutes with the manual fold option to fold.
Transportation Guidelines for Safe Delivery
When transporting your new equipment to your farm, laws will vary between states and zone types. As a general rule, guidelines allow a width up to 3.5 metres without the requirement of an escort vehicle. over 3.5 meters but under 4.5 meters 1 escort vehicle required and over this 2 escorts required.
However, variations will apply when transporting between farms, and you go out onto major roadways.
Australian Made
Family owned and operated as well as Australian Designed and built for Aussie farmers and Aussie conditions.
Aussie
Made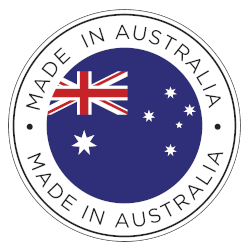 Buy Now for Fast Delivery
When you purchase a new Grizzly, you're probably wondering how we get this to you? Your new Grizzly is made in Swan Hill, Victoria on the mighty Murray River approximately 400kms northwest of Melbourne.
Most often, transport would be booked specifically for your machine and your freight would take your machine direct from the factory to the dealership for assembly and pre-delivery or in the case of a fully assembled machine going to a somewhat remote farm the pre-delivery would be done on-farm before using the machine.
All good Grizzly dealers have stock on hand or on order through the factory and may be able to meet fast delivery dates or order your machine on spec to be factory-built.
Download the Brochure
WHAT'S INSIDE:
Product & Services Overview
Company History
---