3 Point Linkage Grader Blades – What's The Scoop?
3 Point Linkage Grader Blades – What's The Scoop?
3 Point Linkage Grader Blades – What's The Scoop?
A three-point linkage grader blade is a blade that mounts to the three-point linkage of a tractor. This is a very versatile piece of equipment. It's inexpensive to buy and run, fast and easy to use and fits most general tractors found on any farm.
What Is It Used For?
Ideal markets for three-point linkage grader blades vary. It could be fixing or repairing driveways, cleaning up fence lines, or moving gravel for shed pads. Larger customers might use a three-point linkage grader blade for making tracks in the outback bush or making fire breaks.
Government or shire council areas also use three-point linkage grader blades to repair aprons or shoulders of roads, while national park usages can be to maintain fire access roads.
That's Quite A Long Name, What Else Can They Be Called?
Three-Point Linkage Grader Blades are also known as rear back blades, rear hydraulic grader blades, heavy-duty hydraulic grader blades or hydraulically adjusted grader blades. Whatever you call it, chances are it's the same thing we are speaking about.
What Tractor Do I Need for A Grader Blade?
You will need a minimum 80 horsepower tractor for a Grizzly Grader Blade. We do state a maximum of 180 horsepower as a safe range however if used with care tractors into the 300 horsepower range can be used.
There Are a Lot of Competitors Out There, What's the Grizzly Difference?
The Grizzly difference is strength and weight, the ease of making adjustments to the blade and its positioning, the very good offset angle from the tractor and the blade and tilt angle. Above all, it is user-friendly, Australian Made and designed for Australian conditions.
Aussie
Made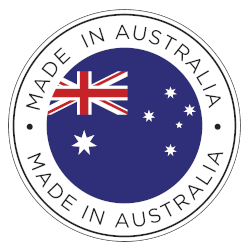 Grizzly can supply an 'electronic over hydraulic diverter', allowing all four points of hydraulic adjustment to be used through only two points on the tractor, meaning easier use and freeing up points for other uses.
Grizzly have twenty years of experience in building grader blades. Intensive research, development and feedback from customers have allowed the product to be improved and strengthened.
Grizzly has a 12-month warranty on equipment. Keep in mind that the blades still need to be used with care in harsh or rough conditions. The blade is primarily designed to be used in clean country, and not to come in contact with hard-set rocks, tree roots or stumps.
Does the Grizzly grader blade fit a category 3 quick hitch?
Yes, it does, this fit-out is standard for Grizzly. You can order a category 2 quick hitch if that is what you need, it can be customised, however the 3 is standard.
Contact your local friendly service provider for further information
Download the Brochure
WHAT'S INSIDE:
Product & Services Overview
Company History
---