Banker – Channeller | Flood Irrigation Development
Banker – Channeller | Flood Irrigation Development
With its versatility and ease of adjustment, Grizzly's Banker Channeller is essential for your rice and tree planting needs. Whether you are growing rice, almonds, avocados, citrus or other fruit trees, the Banker Channeller will allow you to prepare your fields in no time.
There are various size models to choose from. Choose the disc and frame size to suit any job.
Dual Purpose
Whether you are creating a new irrigation system or planning a new layout, the Banker Channeller has you covered. Bring soil in to make a bank or rotate the gangs 180 degrees to throw the soil out to create a channel or drain.
This is ideal for planting trees. You can begin by creating a slight drain or low point at the centre of your rows. Saves time, saves effort.
Adjustable Gangs
Fully adjustable from the tractor cab – You can hydraulically change the size, shape, and height of your bank on the spot, with no time to wait. The aggression of the disks can be adjusted manually by selecting from a series of holes on the pivots of the gang. Whether you are after a steep and high bank, or one that is low and shallow, the Banker Channeller has you covered.
Australian Made
Family owned and operated as well as Australian Designed and built for Aussie farmers and Aussie conditions.
Aussie
Made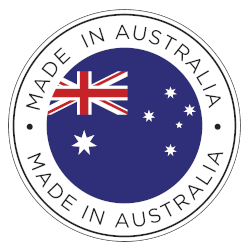 Speed
With its ease of use and adjustability, the Banker Channeller is much more efficient than a traditional grader. Less time in the field, more time to get cracking on the rest of that to-do list.
Patented 'T' Bar Scraper
It wouldn't be a Grizzly without our tried and tested Floppy 'T' Bar Scraper System. Create your banks and channels without worrying about build up on your axle spools. Gets your job done no matter the weather conditions.
Download the Brochure
WHAT'S INSIDE:
Product Overview
Specifications
Request Pricing Guide
---