Grumpy | Small Folding Offset Plough
Grumpy | Small Folding Offset Plough
If you're looking for a medium duty disc plough then Grumpy is for you. Utilising Grizzly's tried and proven technology, the Grumpy provides exceptional performance and long lasting value.
In sizes from 3.3mtrs – 4.65mtrs Grumpy is suited to a variety of applications, from seed bed preparation, pasture renovation and general tillage work.
The use of Grizzly's patented "Floppy T-Bar" scraper system, twist in/out greasable bearings and hydraulic pitch control for front to back levelling while on the move make it a sensible choice for the small to medium size farmer who requires a general purpose disc machine.
A great general purpose cultivation machine that is perfectly suited to tractor's from 70hp to 150hp. Suited to just about all cultivation applications where light to medium cultivation is required.
Another major advantage of Grumpy is its ability to be easily folded from work position to transport position of under 2.9mtrs (9'5") for road transport or narrow gateways. This, along with a number of Grizzly's standard features makes Grumpy a very versatile disc plough.
Grumpy Specifications
Roll Assist Gang Adjustment
Gang rollers to take the work out of gang adjustment (not featured on Little Grumpy).
Depth Control
Easy to read Depth Gauge and adjustable positive depth stop that is direct, effective, and easy to use.
Twist Out Bearing
Easy service with minimum maintenance downtime. Gang bearings have a 2 year warranty.
Patented T-Bar Scraper
Controls soil or trash build up on axle spools enabling operation in even the most extreme conditions.
Narrow Transport – Grumpy
2.9mtr (9'5″) transport width allows access through narrow gates and safe road transport.
Hydraulic Pitch Control
Front to back levelling without leaving the tractor seat. Ensures a level finish in even ground.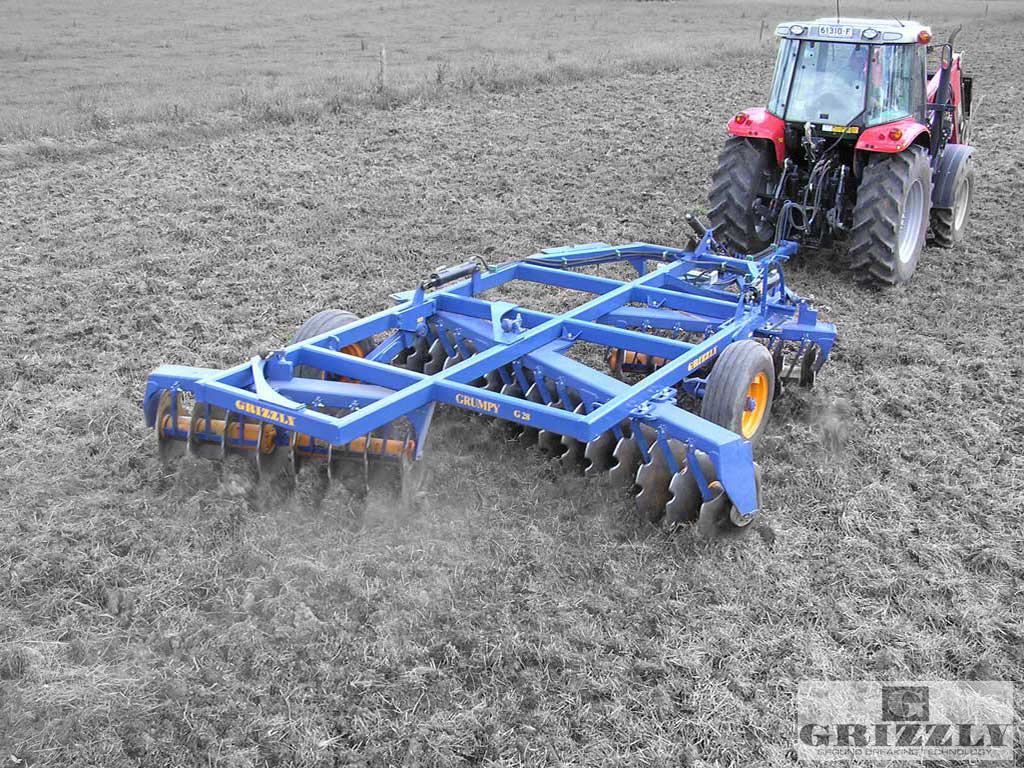 Download the Brochure
WHAT'S INSIDE:
Product Overview
Specifications
Request Pricing Guide
---