True Blue | Light Folding Disc Plough
True Blue | Light Folding Disc Plough
True Blue— an Australian classic, perfect for the owner who knows their land well, and is looking for an economic piece of equipment to manage their soil. True Blue is a Medium-duty light-disc machine that can easily manage light country and cultivation. For the owner who is looking to 'maintain or improve grazing pastures' or to eliminate patches of weeds or other stubble, True Blue is an excellent fit.
This machine is designed specifically for light, sandy soil where it can be used to achieve top results in the planting of carrots, potatoes and other tuber crops. True Blue is especially well-suited for the maintenance and management of light topsoil, whether it be deep or light workings. Crops with needs for deeper soil management, such as sweet potatoes are well-suited by this machine. For the maintenance of grazing land, an owner can do no better in maintaining their property at low costs for purchase and maintenance.
Available in sizes between 56 to 64 plate machines, True Blue is decently sized at 7m, with a folded transport width of 4.4m. True Blue can be folded and ready to go in seconds. For knowledgeable owners looking to keep up their existing land, or expand into new pastures, True Blue is a reliable and economical solution that delivers. In light soil, True Blue will have you covered.
Australian Made
Family owned and operated as well as Australian Designed and built for Aussie farmers and Aussie conditions.
Aussie
Made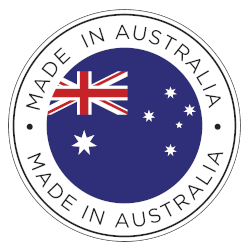 This is a machine that we can stand by- 2 years warranty provided on gong bearings, and 12 months on all other components.
Download the Brochure
WHAT'S INSIDE:
Product Overview
Specifications
Request Pricing Guide
---