Tiny 390 | Mix Soils For Non Wetting And Development
Tiny 390 | Mix Soils For Non Wetting And Development
390mm (15") spacings gives more weight per disc and great clearance for trash and soil flow when comparing with the Tiny 290 although almost all other features remain the same.
The advantage of the wider spacings and the greater weight per disc is more depth can be achieved when conditions are tight and hard to penetrate and at the same time greater soil and trash flow. This spacing was originally developed for applications where breaking through hard pans and mixing and incorporating lime, clay and non-wetting sand was the key objective.
This machine has since found its place in working in new country and suckers. Due to the wider spacings when working in cloddy , tight grazing country the finish is a little rougher than the Tiny 290, however some operators want this type to finish to keep clod size larger to ensure more rain holds and penetrates into the subsoil. 3.5mtr transport width in sizes from 24 plate through to 44 plate in working widths from 4.81m through to 8.5m
Australian Designed and Manufactured.
Family owned and operated as well as Australian Designed and built for Aussie farmers and Aussie conditions.
Aussie
Made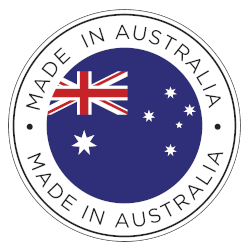 Twist Out Bearing
Maximum reliability, minimum downtime and ease of maintenance. Grizzly's twist in/out bearings and bearing housings with 6 bolt disc assembly. 2 year warranty on bearings. Never pull discs apart to change a bearing again. Easily changed in field.
Patented 'T' Bar Scraper
Grizzly Floppy "T" Bar Scraper system has proven over time to control soil and trash build up on axle spools. They allow you to continue working in all conditions. Get into a wet paddock earlier.
Hydraulic Pitch Control
Enables the set up of the machine to be fine tuned from the tractor seat with hydraulic front to back levelling. Hydraulic accumulators also let the machine follow undulations.
Various Wheel Options
You can choose from a range of tyre types and sizes to suit your application.
Articulated Tongue
Heavy duty fully articulated tongue gives a close tolerance connection with the tractor minimising wear and allowing for smoother operation.
Tool Box & Tool Kit
To ensure all the tools you need to perform maintenance activities on your machine are always close at hand.
Heavy Duty Componentry
Bolt on / Bolt off stub axles and wheel legs allows for serviceability in the field if required. Lockable and greasable hydraulic ram pins with hardened bushes ensure years of trouble free service.
Narrow Transport
Most models fold to 3.5 metres (11'5") for transport or narrow gateways. Goes easily from working position to transport position. Also with hydraulic fold option.
Hydraulic Level Lift
Hydraulic level lift ensures the machine lifts out and enters the ground evenly, adding to operator ease, comfort and the performance of the machine.
Hydraulic Safety
Counter balance valves for added safety in case of a burst hose as well as relief valve to ensure no undue stress is placed on componentry.
Road Transport Options
Oversize sign, tow hitch, tail lights and spare tyre for operators doing road travel or if working in conditions that increase the chances of getting a flat.
Heavy Duty Gang Rollers
There are two on each gang that run on a stainless steel track. Easily moved from transport to working position plus easy to change gang settings.
Hydraulic Fold
Go from working position to folding position without leaving the cab. The ultimate game changer for operator ease and comfort.
Tiny 390 Specifications
It's really a good machine. It does what I want it do. Grizzly is really good to deal with including the spare parts division
Download the Brochure
WHAT'S INSIDE:
Product Overview
Specifications
Request Pricing Guide
---