Setting up a Disc Plough: Easy Solutions for Getting it Right
Setting up a Disc Plough: Easy Solutions for Getting it Right
When you are ready to get your paddocks prepared for planting, you want to ensure that your Disc Plough is working and prepared to get the job done effectively and consistently. You may face some issues; however, usually, all that is required are a few easy steps to get back on track and the job done.
Before you begin, we recommend that you check:
The machine is level on both the left and right, front and back, to ensure ploughing is even on both sides.

All the discs on the machine are of similar diameter and not work more on the front or back.

Check that grease points are greased.

Check over the nuts and bolts of the machine to ensure they are tight and ready to use.
Let's Get Started
When you initially start up your Plough and putting the discs into the ground, it's best to start at a slow speed approx, usually around 4 to 5km/h. Once you feel confident with the hydraulic controls, the width of the machine and the conditions, you can go a little faster. Depending on the condition an operating speed of between 6 and 11km/h
Whatever speed you choose to do you must be aware that speed has a direct relationship with soil throw and therefore the finish in which is left behind the machine. When everything is working at a balanced pace with a Grizzly the finish left by the machine will be level, You will find there is a point at which the speed and depth relationship is optimal and the finish inturn is optimal. As mentioned above this can be anywhere from 6 to 11km/h
When you aren't getting the outcome you were expecting, like a level finish, the reason could be any of the following:
The machine isn't level due to a flat tyre, uneven tyre pressure or an out of phase cylinder.

The front and back discs aren't the same size and need replacing or simply too small and need replacing.

The Pitch of the machine needs adjusting to level the machine front to back.

May need to adjust the speed and/or depth.
Common Issues and Solutions
1. Lack of penetration into the ground
If you are experiencing a lack of penetration with your disc plough and need to go deeper, you may need to adjust cutting angles to the most aggressive setting. The other possibility is that you may need to slow down a little. However, if you are already in the most aggressive setting and have slowed down you may need to wait for more appropriate conditions.
2. Adding ballast to the frame
Most disc ploughs are only designed to take the frame's weight. Therefore, it isn't recommended that a ballast be added to the frame. Some models have provisions to take ballast inside the frame of may have a provision to mount weight to the frame. If you machine doesn't have these provisions it is not recommended to add weight as it increases stress on the frame and discs and may lead to breakages and premature wear.
3. Ploughing too deep
If you find that you're ploughing too deep, there are a few measures you can take. Generally, if the discs are too deep, you need to carry more weight on your wheels. We also recommend using a lower aggression setting, making it easier to pull and uses less diesel and is less wear on the discs.
4. Bouncing
If you are experiencing bouncing, it is generally a speed-related problem, and the solution is simple – slow down! When people aren't happy with the finish, it is mainly related to speed. Travelling too fast upsets the balance of the machine and may cause bouncing as well as other problems such as throwing the soil outside the designed working parameters of the machine, causes the discs to wear unevenly and or prematurely and uses more diesel.
Australian Made
Family owned and operated as well as Australian Designed and built for Aussie farmers and Aussie conditions.
Aussie
Made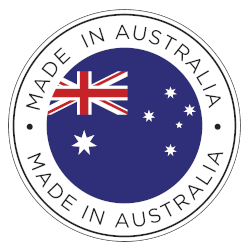 Want to know more about Disc Ploughs? Ask our team how we can help you moving forward.
Download the Brochure
WHAT'S INSIDE:
Product & Services Overview
Company History
---