Heavy Offset Disc – The Basics and the Grizzly
Heavy Offset Discs – The Basics and the Grizzly
What are Heavy Offset Discs?
What is Heavy Offset Disc?
You might know them as Tandem Offset Discs, Heavy Duty Tandem Offsets, Blade Ploughs, Cultivators, Rippers or All Farm Ploughs.
If none of these names ring any bells, Heavy Offset Discs are used in deep cultivation. The machinery cuts through obstacles, breaking up hard pan land, going into areas of rock (although not recommended or ideal, but it will handle it), dealing with areas of timber and of course a high amount of organic matter.
Who Uses Heavy Offset Discs?
The machinery is mainly used by cattle producers and in road construction or mining. Anywhere where new country is being developed, you will find Heavy Offset Discs connected to tractors or bulldozers.
What is the Grizzly Difference?
The key differences for Grizzly are that the ploughs are designed to be narrow for transport and easily transported between properties, this is an extremely important feature of the Grizzly machines, starting from 2m wide, with the largest reaching an impressive 12m width.
Depth is also quickly and easily set or adjusted with hydraulic adjustment on the wheel. The level of the machine is adjusted through a front pitch control cylinder. This is also connected to a solid impact safe guard at the front of the machines to help float over solid impact obstacles and undulating country. Grizzly machinery can also be used over terrain, such as melon holes, where other ploughs struggle.
What do I Need to Know Before Buying a Heavy Offset Disc?
Weight and disc size are the key considerations when purchasing the machinery. Grizzly offers disc sizes of 28, 32, 36 and 42 inches and weigh up to 20 tonne version. So which size to choose? The optimal size of the disc is dependent on usage and the tractor or dozer you plan to use, generally, the deeper the cultivation needed, the larger the disc which means the more horse power you require.
Other considerations are the length of working life of the machinery and the after sales support available. Grizzly has great longevity of equipment, having been established in 1982, Grizzly still have original machinery working on farms, by contractors and in mines and on road crews today. Grizzly also have an Australia wide dealer network providing local stores for sales and parts.
What's Changed for Heavy Offset Discs Since 1982?
They have become more easily transportable. Grizzly Heavy Offset Discs require only 3.5m for transport. The machinery also has solid tyres, minimising the need for changing and bolt-on, bolt-off componentry, easily serviced and parts can be replaced in the field.
Australian Made
Family owned and operated as well as Australian Designed and built for Aussie farmers and Aussie conditions.
Aussie
Made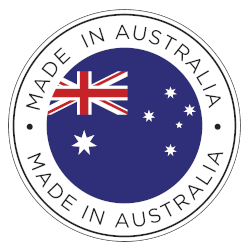 Where Can I Purchase a Grizzly?
Speak to your local Grizzly representative or visit https://grizzlyag.com.au/
Download the Brochure
WHAT'S INSIDE:
Product & Services Overview
Company History
---