Does Ripping Increase Yield?
Does Ripping Increase Yield?
With the diversity of farming and the variability of conditions across Australia, accessibility to proven to work machinery so your farm thrives is essential.
Deep ripping is proven to increase yields for farmers, with data indicating that there were yield gains between 75 and 92 Percent in recent WA studies.
Furthermore, anecdotal feedback from farmers who undertook testing in their paddocks has seen a Return on Investment (ROI) between 10%-100% with ripping.
Let's Get Back to Basics – What is Ripping?
Ripping, also known as deep tillage or deep ripping, is mechanically opening up or fracturing the subsoil. Its purpose is to give your soil and crop better water infiltration, infuse a path deeper into the root-soil profile, gives it access to better nutrients, and gives your crops access to moisture when required.
A common saying within the farming community is that ripping is all about increasing the size of your bucket. This refers to improving the area where your crop can access the moisture, which means that you capture more water on rainfall events and store more water for longer between rainfall events.
Equipment Used for Deep Ripping
When choosing the right equipment for tillage, we manufacture and stock a range of designs and options that give your crops the proper access to moisture and nutrients. Some of the choices include:
Heavy-duty rippers
Little Jack Hydraulic Release
Linkage Heavy
Deep Tillage
While we have recommended you don't overthink it, we urge you to research ripping to increase your yields to ensure you get the correct type of Grizzly machine for your part of the country, different types of soil and get the result you're looking for.
Is Ripping Right for Your Farm?
Every farm is different, which means that deep ripping is not always the right choice for you. Again, it depends on your soil type, and instead deep discing may give you better results and be speedier result than what you're already doing or then deep ripping. Deep discing and deep ripping can also be done as a combination.
We recommend that you do this in the early summer months to allow rain or two can help take the air out of the soil clods and melt them down. This is a time when the soil fractures, and there's no smearing under the soil. Going through this process enable better seed to soil when it comes to sowing. However again you need to know your farm and soil types to ensure you minimize the risks of any soil drift over the dryer summer months.
When you consider what depth to rip to, you will find it unique to your farm, soil types, and what you want to achieve. However, it's usually between 300mm to 600mm deep, which is considered a good general agricultural ripping depth. It is deep enough for roots to access moisture and is relatively efficient to pull. If you find the soil is tight, you may be required to rip deeper over several years to improve soil health.
Australian Made
Family owned and operated as well as Australian Designed and built for Aussie farmers and Aussie conditions.
Aussie
Made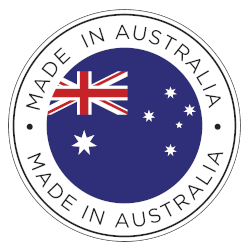 A Word on Trafficability?
What has your experience been with trafficability after deep ripping? We cannot stress enough the importance of doing trials to prepare for a range of possible issues.
In high rainfall areas, you may find you need to be wary of tine spacing and depths because trafficability may be a problem if you need to access your paddock for spraying, sowing and spreading fertilizer.
This is where control traffic ripping comes into play and where tine spacing can be adjusted or tines removed to ensure you don't rip out wheel tracks and maintain a hard surface to drive on. If control traffic isn't an option, we suggest using wider tine spacing to enable firm areas between the rip marks.
Download the Brochure
WHAT'S INSIDE:
Product & Services Overview
Company History
---