When You Need The Best Farming And Agricultural Machinery… Read On!
When You Need The Best Farming And Agricultural Machinery… Read On!
How Do I Find The Best Farming Machinery?
It's one of the broadest search terms in the agricultural space – farming machinery. Just what is encompassed in the term farm machinery, and how do I get the best machinery that suits my needs?
One question at a time. Farm machinery, also known as agricultural machinery, can mean anything from heavy machinery such as tractors, graders or diggers to tractor-drawn implements such as ploughs, discs, rippers and slashers. Agricultural machinery can be used for any purpose from ground preparation to sowing, to road building and the list goes on! Basically, if you can name it, and it's used on a farm, chances are that it can be classed as farm machinery.
Who Is A Trusted Brand In Farm Machinery?
A well-known and trusted Australian brand name in farm machinery is Grizzly. Grizzly have been manufacturing farm and agricultural machinery from the 1980s. Specialising in tractor-drawn farming implements, primarily in ground engaging equipment, Grizzly's best-known agricultural equipment are discs, rippers, cultivation equipment and grader blades.
What Makes Grizzly A Leader In The Farm Equipment Market?
In short, the Grizzly difference is quality farming and agricultural equipment. All farming and agricultural implements sold by Grizzly are manufactured to high specifications for the harsh Australian environment. The company is ISO certified and quality assured so you can be confident you are purchasing equipment that is of a consistent, high-quality standard.
Grizzly is renowned for their customer service and keeping in touch with their customers post-purchase to understand the latest farming trends, how their machines perform and any new needs. Using a wealth of industry knowledge from Australian and international agricultural markets and trends, collected from both individual and corporate farming customers, Grizzly continuously improve and deliver new products and equipment to meet changing needs and farming trends.
Where Does Grizzly Fit In The Australian And International Farm Machinery Markets?
We're not going to be modest, Grizzly is at the higher end of agricultural equipment and farming machinery, you might even say the top tier. This is in broadacre farming and irrigation, as well as permanent plantation farming. Grizzly fits where the quality of the product equipment you keep directly drives the quality of the results and crops you produce and ultimately the profitability of your farm.
Grizzly provides detailed and reliable manuals and documentation in the supply of their machines. In addition and complementary to this, Grizzly machines also have one of the highest resale values in the market.
Australian Made
Family owned and operated as well as Australian Designed and built for Aussie farmers and Aussie conditions.
Aussie
Made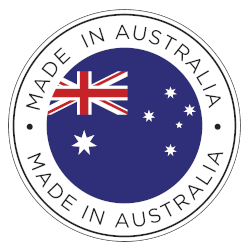 Where Do I Get One?
Visit your local Grizzly dealer in person today, or spend some time scouting around the website to order your farming machine or agricultural equipment.
Download the Brochure
WHAT'S INSIDE:
Product & Services Overview
Company History
---