Grizzly Engineering's Disc Plough Range "Tiny" Is Anything But
Grizzly Engineering's Disc Plough Range "Tiny" Is Anything But
by DARON JACKS, The Weekly Times
March 20, 2018 9:00pm
IF IRONY was a culture it would be Australian. Where else is a redhead called Bluey, a quiet bloke called Rowdy, your mate's a bastard and a bastard is called mate?
So with a sense of humour and "a bit of Australiana" the team at Grizzly Engineering named its disc plough range "Tiny". It's anything but.
Grizzly's Tiny range covers four models – the Tiny230, Tiny290, Tiny390 and the Tiny XL460 – with numbers indicating the millimetre spacings between discs, ie 230mm.
Disc sizes range from 28 inches to 42 inches.
"Our equipment is more of a traditional farming tool," marketing manager Skye Poltrock said. "Cultivation is something farmers are looking at again to deal with chemical-resistant weeds. As well as the threat of mice – it helps destroy their habitat."
Mr Poltrock said more farmers want to incorporate a stubble cultivation into farming practices now, compared to 10 years ago.
"A lot went to no-till farming. We're getting feedback that a lot of those practices need a bit of a break because those chemicals relied on aren't working, so they literally have to just plough them up rather than rely on chemicals to kill the weeds, and getting the organic matter back into the soil."
The Tiny230 tandem plough was developed "because we needed a bigger, heavier offset than we had in our range, with larger discs," said Mr Poltrock, who with his brother Kurt, is taking over the Swan Hill family business that was started by their parents in 1982.
"At the same time we had to satisfy our current size machines that took a 28-inch disc, but we needed a narrower transport option.
"So all of the Tinys have a 3.5m transport width, which means you don't need an escort or pilot vehicle."
He said labour-hire costs were reduced as a result.
Using the same frame, the plough ranges from working widths of 4.2m to 8.55m, and Mr Poltrock said the Tiny is able to do lighter stubble cultivations because of a lesser cut on the gang angles.
"We bring our gang angles back 10 degrees, which allows us to work shallower and faster, and less aggressive," Mr Poltrock said.
Australian Made
Family owned and operated as well as Australian Designed and built for Aussie farmers and Aussie conditions.
Aussie
Made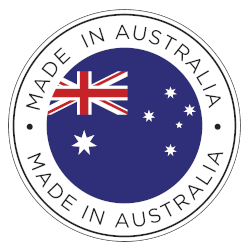 "We also have an increased gang angle going up to 30 degrees to dig into the hard-to-penetrate soil, and country where maximum depth is required and aggressive working."
All gang angles have six settings and are manually adjustable, with an optional hydraulic fold available, which Mr Poltrock said was popular with contractors, or corporate farms for cotton growers or broadacre croppers.
He said Grizzly offered various options on the Tiny such as non-pneumatic solid tyres and hose protection. There are also plans to release a hydraulic fold crumble roller for the rear of the machine.
Power-wise operators need a minimum of 200hp to pull the Tiny230 range, which weighs from 7.4 tonnes to 11.2 tonnes.
Priced from $78,900 (+GST), Grizzly sells the Tiny Australia-wide as well as New Zealand and Papua New Guinea.
Download the Brochure
WHAT'S INSIDE:
Product & Services Overview
Company History
---